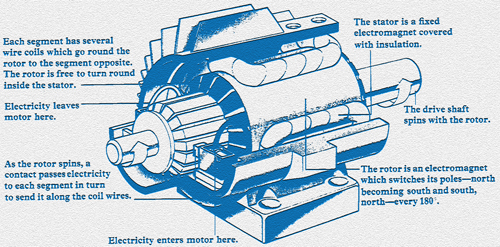 No matter how large or small the business operation is, it can be a challenge to keep electric motors running at optimal performance.  Almost always, when an electric motor goes down, it affects the bottom line of the entire operation.   Motor and drive failures can be caused by many different factors, however, the good news is that by proactively monitoring some common causes of failure, downtime can be minimized and motor efficiency maximized.  By implementing a program to regularly monitor your electric motor(s), you can often prevent more serious repairs
What To Monitor?
Lubrication
Bearings
Rotors / Stators

Gap check between the rotor and stator twice a year.  Differences in the reading indicate bearing wear.

Brushes

Check for excessive brush wear and fit.

Motor Mounts

Check the motor mounts and mounting base for any warping or cracking.

Vibration 
Temperature
Overall Cleanliness

Cleaning the motor should be performed as often as needed depending on the environmental conditions.  Some motors need to be cleaned once a week, and some only once or twice per year.
Keep a record each time you go through this checklist, and make a note of any issues, and what was done to correct them.   If your electric motor needs repair, contact us here at Priest Electric for a estimate.  Our experts will partner will you and help you develop a plan to ensure long motor life, and minimize down time.