We've done several important articles about bearing lubrication (see them here and here).  It is an important issue, because faulty bearings are the cause of the majority the electric motor failures that come into our shop for repair.
Lubricants are critical because they:
Reduce wear
Prevent corrosion
Reduce heat
Prevent contaminants
To keep electric motors running reliably and to expand their lifespan, regular bearing lubrication checks are a must.  Unless they are sealed for life, bearing will need periodic re-lubrication.  Check the levels, look for leaks, and inspect for contamination.    Determine the correct re-lubrication intervals, lubrication type, and grade by looking at the motor's lubrication plate, or by looking up the manufacturers guidelines.
Not all greases and additives are compatible, so it is very important to determine what grease is already in the bearing, and to only re-lubricate with a compatible grease.  If a non-compatible grease is used, it can cause increased bearing wear to catastrophic failures.  After re-lubricating, if the motor runs hot, emits noise or vibration, shows signs of leaking, foaming, or fluid separation, then you may have used an incompatible lubricant.
Use the following chart to determine compatibility when re-lubricating.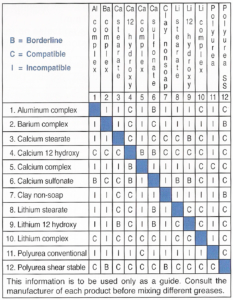 Re-lubrication Tips:
 Dont mix incompatible greases
Don't mix if compatibility is borderline
Even if the table shows the grease is compatible, still check with the manufacture.
If there is any uncertainty of compatibility – don't mix.
Best practice is to use the same grease that already in the bearings.
Clean the grease fitting and remove the drain plug before inserting grease
Re-lubricate with the recommended quantity, and run the motor for 30 minutes with the drain plug out to purge old grease.
How to determine re-lubrication interval
Re-lubrication intervals depend on bearing speed and bore size. Contact Priest Electric or the electric motor manufacture to find the appropriate interval for your specific application.
If you have any questions about bearing lubrication or re-lubrication, please contact our electric motor repair professionals at 208-459-6351