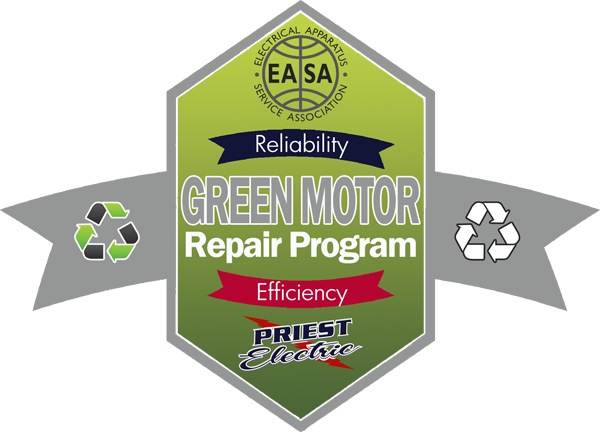 Priest Electric specializes in Energy Efficiency Motor Repair and Rewinding that meets or exceed recommended EASA Guidelines.
Our Remanufactured motors: Meet or exceed new motor specifications – (For all mechanical fits, insulation systems, balance, vibration, bearings & efficiency.)
THE EFFECT OF REPAIR REWINDING  ON ELECTRIC MOTOR EFFICIENCY
Priest Electric is continuously striving to improve the reliability and efficiency of electric motors we repair and/or rewind. We recognize that  electric motors are key components in most industrial plants, mines, and manufacturing equipment. They account for two-thirds of all the electrical energy used in their applications with that cost totaling many times the purchase price of such equipment. Yet motor failure can cost much more in tenus of lost production, missed shipping dates, and disappointed customers and can adversely affect a company's profitability and even future competitiveness.
At Priest Electric we recognize that our customers need effective motor management and maintenance strategies to minimize the cost of motor replacement and other problems caused by unexpected motor failures.
These customers have long known that having motors repaired or rewound by our qualified service center reduces capital expenditures while assuring reliable operation. Rising energy costs in recent years, however, have led to questions about the energy efficiency of repaired/rewound motors.
To help answer these questions, the Electrical Apparatus Service Association (EASA) and the Association of Electrical and Mechanical Trades (AEMT) studied the effects of repair/rewinding on motor efficiency. The results of these studies resulted in procedures for maintaining or even improving the efficiency of motors after rewinding. Priest Electric has implemented or have always used the recommended procedures. Using the approved good practice repair methods maintain efficiency and may sometimes improve it.
This report in total is available from Priest Electric. (click here to see a summary)
Some of the steps and procedures utilized by Priest Electric are:
Have a documented quality assurance program … EASA 'Q'
Conduct a stator core test before and after winding removal and document results.
Repair any defective stator core laminations.
Measure and record winding resistance and ambient temperature, and document results.
Have the appropriate power supply to run motors at their rated voltage.
Dynamic Balance the rotor.
Repair or replace all defective, worn, or broken parts and machine all fits to recommended specifications.
Have and use the following test equipment: ammeter, voltmeter, wattmeter, ohmmeter, megohmmeter, and high potential tester.
Calibrate all test equipment and measuring devices as needed and recommended.
Use temperature controlled ovens to prevent overheating prior to stripping.
Never knurl, peen, paint, or glue bearing fits.
A preliminary inspection forms an important part of the complete motor repair record and may provide vital clues about the cause of failure. Test data and notes are recorded to a work card on every motor received for repair.
Priest Electric meets or exceeds EASA Q quality standards as well as EASA Standard ARI 00-20 1 0 Recommended Practice for the repair of rotating electrical apparatus. If you need more information or have questions we welcome your visit or call.
So Why Buy New – When You Can Get
Lower Price
As Good As New Quality
Full 1 Year Warranty
..and Save Natural Resources
Call 208-459-6351 or request a bid on-line for more details